Cosh Boys - Those British Sounds - CD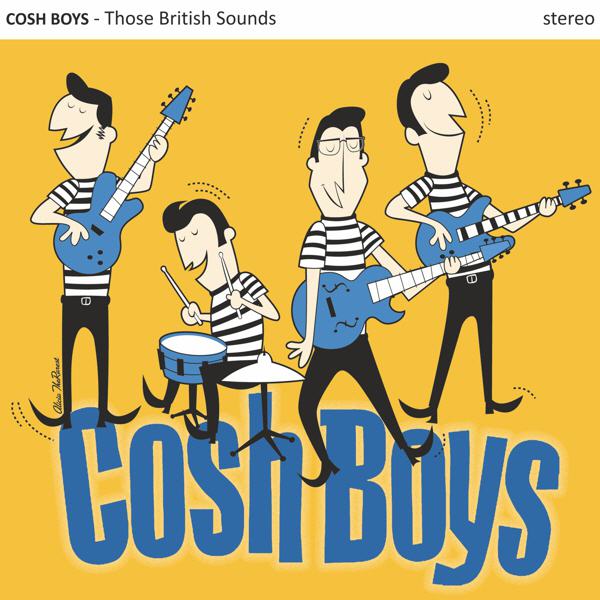 Cosh Boys
Those British Sounds
Rebel Music Records RM 5015
4260308420238

YouTube Trailer: http://youtu.be/gAjeW3wQDpI

Tracks:
1. Sparkling Brown Eyes
2. Twenty Flight Rock
3. Ginchy
4. Nightmare Of A Woman
5. Someone Like You
6. Linda Lu
7. Hungry For Love
8. I'm Gonna Catch Me A Rat
9. Oh, Sugar
10. Magic Carpet
11. Be Bop A Lula
12. That's Alright
13. Rock'n'Roll Is Here To Stay
14. You're Leavin' Me
15. Motorcycle Gang
16. Go On Home
17. Dracula's Daughter
18. Bad Boy
19. Slow Times Comin'
20. (Real) Bad Boy


Nach drei CDs, vier EPs, einer Single und einiger Beiträge zu Kompilation CDs hier nun das dritte Album der sagenhaften finnischen Cosh Boys: Those British Sounds! Die CD hat es in sich, nicht nur die 12 brandneuen Songs die richtig Spaß machen, auch das umfangreiche Bonus-Material wäre schon fast ein Album für sich! Das Bonus Material beinhaltet zwei Songs der mittlerweile ausverkauften Motorcycle Gang EP, drei Songs der ebenfalls fast ausverkauften Slow Times Comin' EP, die Sleazy Single Rock'n'Roll Is Here To Stay (2 Songs), sowie den Beitrag Real Bad Boy zu der Various Artists 4 CD Box Slap That Bass! Zusammen sind das 20 Songs, eine Zeitreise in die 50er und 60er Jahre, jede Menge Spaß, und 48 Minuten Party und Tanzvergnügen...


After 3 CDs, four EPs, one Single and some songs on compilation CDs here it is, the third longplay-album of the fabulous finnish Cosh Boys: Those British Sounds! The CD is a ripsnorter, not only the 12 brand new songs who make really fun, also a lot of bonus tracks on it, so nearly two albums on one CD! The bonus is two songs of the nearly sold out Motorcycle Gang EP, 3 songs of the nearly sold out Slow Times Comin' EP, the complete Sleazy Single Rock'n' Roll Is Here To Stay (2 songs), and Real Bad Boy from the various artists 4 CD box Slap That Bass! Altogether you have 20 songs, a time travel in the fifties and sixties, a lot of fun, and 48 minutes party and dance...don't miss it!