Manos Wild - A Session For Everyone! - CD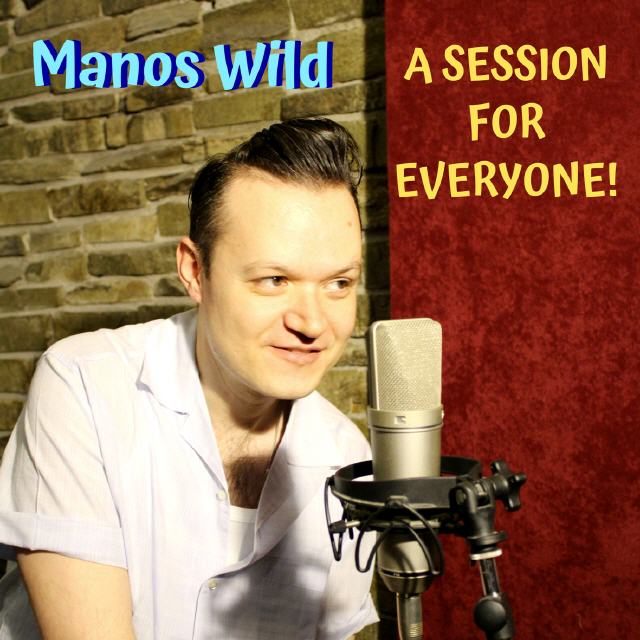 Manos Wild
A Session For Everyone!
Rebel Music Rec. RM 5034
4260308420948

Tracks:
Forty Days
All My Mind
What Happens Now (That I Lost You) ?
Strange
I Want It All
Little Girl
Wisdom Of A Fool
Boppin´ At The High School
What They Say Is All Wrong
That Magical Thing
If Anybody Cares
Everybody´s Got A Date But Me
Nine Times Out Of Ten
Until You Find Your Way

The Greek Rockabilly Singer / Songwriter Manos Wild is a founding member of the Greek Rockabilly band BREATHLESS since 2003. He appeared numerous times on Greek TV and Radio while they released two pure rockabilly albums from the Greek label On Stage Records "FIRST TAKE" (2008) and "ADAM AND EVIL" (2017) . They have performed live hundreds of times in Greece and they also performed with other great rockabilly acts from Europe (Sue Moreno, The Black Raven , Ronnie Nightingale & The Haydocks, Foggy Mountain Rockers and others) in several Festivals while their Three Elvis Presley Tribute concerts were smash hits in Greece plus one in Sofia, Bulgaria!

Manos Wild started his solo recording career in 2013 with the release of his first digital single "Rhythm Of Teddy Boy / Flip It Over" and so far he has released over 30 albums and 75 singles of Country, ballads, Swing , Gospel and of course Rockabilly music plus 3 Christmas albums too while he has written lyrics and music to 200 songs so far! His song "Bluebirds Cry" from his "THE DUCKTAIL TIP OF THE ICEBERG" album (2015) was also heard in the US Movie "SUPERPOWERLESS".

In 2022 he released "ROCK N ROLL DREAMER '' from the UK Raucous Records while he had 5 Top - 10 Hits in Australian Radio Show. He also reached # 1 in worldwide Radio Charts of the Global Mixcloud Radio Shows in October 2022 in the "Rock N Roll Is Here To Stay" Show where the show played strictly Elvis Presley songs covered by Manos' voice. In January 2023 he hit #2 (on Rock Charts) and #3 (in Country Charts) Worldwide in the same radio show with the presentation of his "TODAY" album .

"A SESSION FOR EVERYONE" is his first album in Rebel Music Rec. Label . Here you will find 14 songs 10 of which is fresh material written by Mr. Wild himself while the 4 covers are 3 bright rockabilly versions in well known older songs from Cliff Richard , Chuck Berry and Gene Vincent plus a new version in the wonderful '50s love song "Wisdom of A Fool" originally from The Five Keys although Manos' version gets a little closer to the Bobby Vee's cover. Manos' version in Gene Vincent's "Everybody 's Got A Date But Me" is a faster upbeat version with great Sax and guitar solos while "40 Days" is a superb album opener.

The rest is pure, new, really fresh sounds of wild rockabilly ,rhythmic '50s style pop and great love songs too. That's why it is a "Session for Everyone", whether you prefer one style or another in Rock 'n' Roll World you can find it all in this album full of drama, Rebellion, passion , love and tension, this album is an item for every true fan of Rock & Roll!