Cosh Boys - Rock Is Here To Stay - white vinyl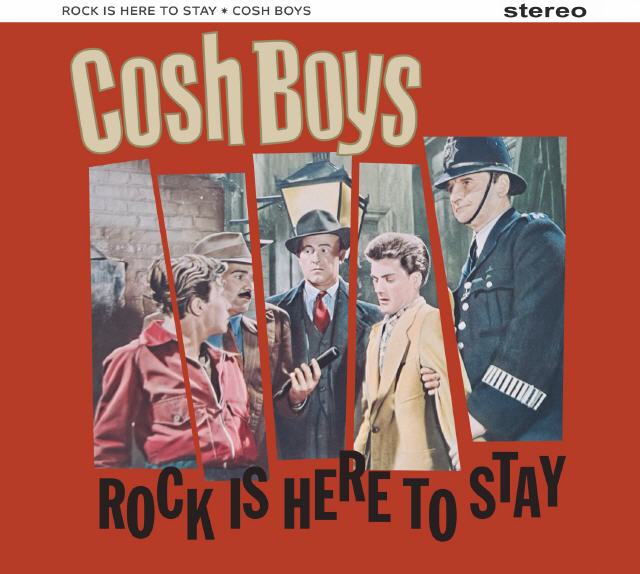 Cosh Boys
Rock Is Here To Stay
white vinyl, only 100 copies!
Rebel Music Rec. RM 12016
4260308420849

Side 1:
1. Rock Is Here To Stay
2. Real Wild Angel
3. Lonely Cherokee
4. Crest Of The Hill
5. Don't Wanna See You Cry
6. Canyon Ride

Side 2:
7. Hidden Fear
8. I Want To Do It
9. Baby Baby
10. Frankenstein's Daughter
11. I'm A Hog For You Baby
12. Shake

Cosh Boys, the rock and roll band from Finland was formed at 2003 and have various records released during the years by many record companies. Their previous long play album "Those British Sounds" was released by Rebel Music at 2014. Now you have got in your hands the brand new record by the boys. It is called "Rock Is Here To Stay" and contains brand new songs, where seven out of twelve are written by band and have a great rockin' variety on them. There is one tribute kind of song about early English rockin' group Wild Angels, who have been one of the primus motors for the Cosh Boys' sound. Also songs about motorcycle death, horror type of saga about Frankenstein's daughter, songs about sad times and happy times, too. There is eight rock and roll vocal tracks plus guitar instrumentals written by Cosh Boys. Cover songs are well selected and mostly not the most well known ones. Four out of five of them are also recorded by English artists or groups during the years, though original versions are mostly fro America, so it is easy to see that English flag is well waved by Cosh Boys again. So hit the needle onto the grooves and let your hi-fi blast out some great rockin' sounds, 'cause like they say Rock Is Here To Stay !