Rebel Music Rec. - Rockabilly Label & Mailorder
Sylvia Sands - Evil Love
Available from April 28, 2023 as nice Digi-Pak CD with 12-pages booklet, and as Black Vinyl LP, only 300 copies pressed:
- Sylvia Sands - Evil Love - Rebel Music Rec. CD RM 5032 - 4260308420870
- Sylvia Sands - Evil Love - Rebel Music Rec. LP RM 12018 - 4260308420887

Songs:
1. Rockin´ With My Baby
2. Growing Love
3. Just A Rockin´ Mama
4. In Or Out
5. Burning For Love
6. Forgive Me
7. Rock `n´ Roll Soul
8. Nothin´ Else Can Be
9. No More Sorrow
10. Evil Love
11. 9:30 Berlin Blues

Sylvia Sands (Italian Rock `n´ Roll / Rockabilly Singer) is on the rockabilly scene as artist since 2008, although she has been following all the rockabilly and rockin' world since many years before. In fact, during the years, Sylvia has travelled a lot on her own across Europe and U.S.A. to see and meet the main rockabilly/rock'n'roll artists from the 50's and from the modern era.

"Evil love" is Sylvia's first album, all the songs are self-penned and written in cooperation with other musicians of the European rockin' scene such as Vince Mannino and Axel Praefcke.

The album talks about two opposite aspects of the love. Taking inspiration from real life stories, Sylvia portrays the vision of the love that seems perfect, that type of love that makes a woman feel like the "queen of the world", everything is perfect and burns like never before but at a certain point, this perfect love reveals its real nature, it's only a fake love, full of lies, it's an "evil love". The last song of the album "9.30 Berlin blues" is a sad song, it's the woman final attempt to go back to the perfect love never tried before and that grows up every day.
Rockabilly Rumble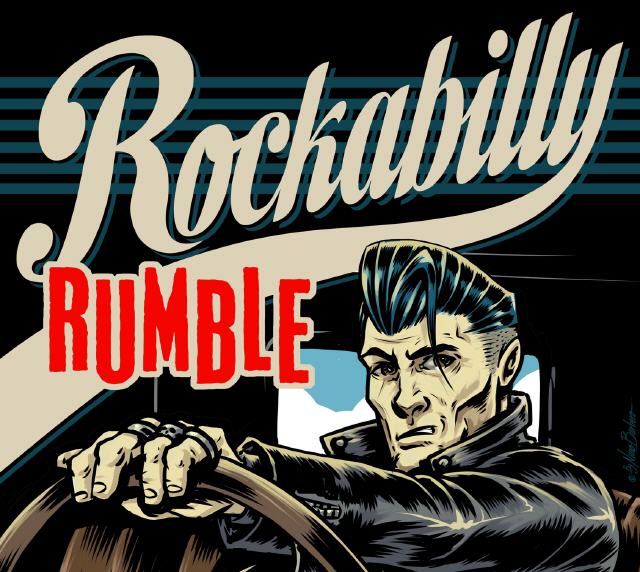 Various Artists
Rockabilly Rumble
Rebel Music Rec. RM 5027
4260308420726

Tracks:
Marshall Scott Warner - B For Bop
The Ragged Rebels - Nothing To Regret
Snakebite - Fantasy Lady
The Rockin' Daddys - I´m Dressed in Style
Rockin Hellfire - Blood On My Drape
Rockin´ Aldo & The Gold Searchers - Just Keep Away From Me
Greased Lightning - Brothel Creeper Bop
Billy Brillantine & The Bandit Rockers - Rockers-Bikers
The White Lines - Rock 'n' Roll Tonight
Wild Deuces - Rock-a-Beatin Boogie
The Panthers - Cool Cat Jive
Cuntry Diktator - The Boondocks
CorrupTed - Ol´ Moss Back
The Crazy Teds - All Night Rockers
Black Moon Boys – Sharkbait
Roadkill Rockers - Play It Loud
The Roughboys - Teddy Jive
Cosh Boys - Bring Back Rockabilly Back
Cliff Edmonds feat. Rockin Hellfire - I Love My Job
Six Five Special - Teddy Girl
Town Rebels - For An Angel
King Drapes - Rebel Girl
Cliff and the Town Rebels - I Want That
Cosh Boys - Someone Like You
The Crazy Teds - Stand By Your Man
Miss Lauren Marie - Kiss Me Baby
Warren Ace & The Dukes - Our Dream Is Gone
Letzte Änderung am Freitag, 8. Dezember 2023 um 12:01:46 Uhr.
Neu im Sortiment